I don't know about you, but I for one am disappointed that I missed the action at ISE 2017. From what I've seen on social media, there were plenty of highpoints – from the latest solutions released by our members, to the best cocktails served in their honor. Read on for a summary of the best of ISE 2017:
Strength in numbers - and size. We continued our tradition of a Stand-in-a-Stand initiative, where Alliance members became part of our HDBaseT World. By joining forces, we expanded our floor space, generated more impact, and created a stimulating HDBaseT atmosphere.
This resulted not only in a substantial increase in booth traffic, but also helped to expand our community. Alliance members exhibited side by side as they showed demos and met with installers, integrators and customers.
Drum roll please. ISE is the most popular Pro AV annual conference in Europe, making it an ideal platform for showcasing new technologies to potential partners and system integrators. Many Alliance members seized the opportunity to reveal their latest HDBaseT solutions – and the Alliance was no exception, with several announcements:
UL and the HDBaseT Alliance launched the Certification Program for Power over HDBaseT (PoH) Cables to better support installers and integrators. Read the Press Release here.
HDBaseT standard supports HDBaseT over IP specification. Read the Press Release here.
New HDBaseT solutions in the market. Read the Press Release here.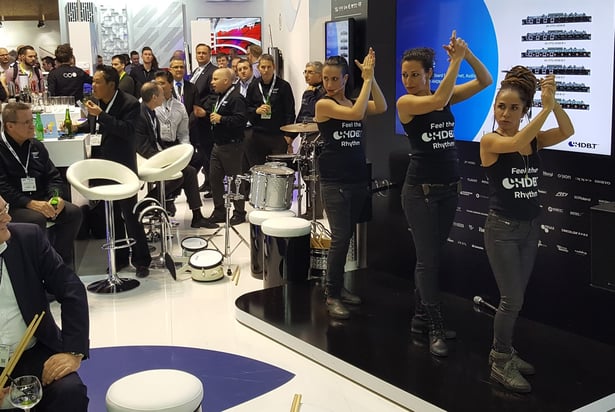 Marching to the HDBaseT beat. The Alliance and its members conducted learning and training sessions at the HDBaseT Academy in our Stand. We also held the HDBaseT Expert Installer Program (entitling participants to 3 RU's), covering the basics of HDBaseT technology – HDBaseT is so simple, you become a professional in no time.
Bringing the rhythm to the ISE 2017 after party. If you know the HDBaseT Alliance, then you know that we are all about business, and even more about fun! With customized cocktails named after our Alliance members, and with a team of talented drummers, there was never a dull, or quiet, moment in the HDBaseT Stand. We even had the great, traditional tweetup with the folks from AVNation! If you stopped at our Stand, you received branded HDBaseT drumsticks and hopefully joined in our fun.
If you were to ask me how I can be so sure that ISE 2017 was an event not to be missed – nothing proves it better than numbers. We counted roughly:
73,000 attendees
1,700 booth visits
700 drum sticks handed out
600 cocktails served at the HDBaseT World Cocktail Bar
200 Installer Zone registrations
50 new product announcements
13 Alliance member stands
12 learning sessions
Countless hours of HDBaseT & fun
All in all, a successful event.
Year after year, ISE brings the best of HDBaseT to Amsterdam. Can't wait for ISE 2018.